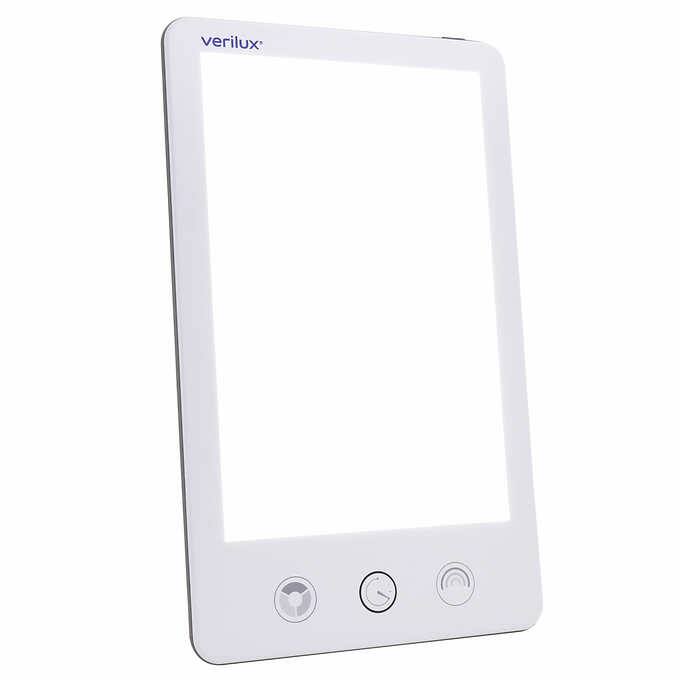 Verilux HappyLight Luxe LED Therapy Lamp
Sale price
$61.74
Regular price
$94.99
En achetant chez nous, vous contribuez à maintenir des emplois stables chez
Re-Source Intégration
, pour des gens ayant des limitations fonctionnelles. Merci pour votre soutien!
Verilux HappyLight Luxe LED Therapy Lamp
Sale price
$61.74
Regular price
$94.99
Description
Purchasing policy
Solar light is an essential ingredient for a healthy lifestyle. However, many of us do not capture the quantity of daylight necessary to benefit from its advantages. The HappyLight® Luxe HappyLight Light therapy lamp imitates sunlight by emitting a complete spectrum light from at most 10,000 lux to improve mood, energy level, sleep and concentration, but without the harmful ultraviolet rays .

Why this model?
The HappyLight® Luxury light therapy lamp provides customizable light therapy at hand. Our unique OPTIX® Glare Control and Flicker Elimination Technology® lens offer a safer and more pleasant luminotherapy experience. With 4 levels of brightness, 3 color options, a large LED lens size and timer, your happylight® is as unique as you. Its elegant, light, and portable tablet design makes it perfect for use at home, at the office, in a dormitory or traveling.
Personalized parameters: Choose between 4 levels of brightness and happyhue with 3 color temperature options ranging from hot white to daylight. Adjust the timer over 1 hour by 5 -minute increments for most choices for a maximum of convenience.
Uniformly distributed LED light: benefit from a lively light without a sparkle, without dazzling and without hot spots
Simple and easy to use: the soft on / off button button to the touch and the brightness and the color temperature adjustable to the touch make the operation simple and easy
Portable and durable: detachable support and the design of the tablet get carried away for lifestyles on the move
A bright light in the early hours after awakening helps to stimulate the hormones of our body that influence our Wellness, including sleep / awakening habits
Mood
Light therapy lamps can help fight fatigue generally associated with winter blues, as well as the effects of posted work or jet lag
Energy
The use of the HAPPYLIGHT® therapy lamp indicates the body's natural energy stimulators to reduce laziness and lethargy - allowing you to be alert and to concentrate when you need it
Concentration
The full spectrum light of 10,000 lux of your HappyLight® therapy lamp helps you feel concentrated and revitalized.
Need to alleviate the effects of seasonal affective disorder and winter blues
Have difficulty sleeping or an irregular sleep schedule due to the work by quarter
Spend a lot of time inside due to health problems linked to work or at home
Experience fatigue or find it difficult to concentrate
Look for a balanced lifestyle with natural solutions without medication
Use your LAPE HAPPYLIGHT® LUXE light therapy lamp within 4 hours of alarm clock to imitate morning sunlight. You can also replace this second cup of coffee in the afternoon after lunch for 10 to 15 minutes by your HappyLight® therapy lamp for a little boost!
Choose a place
The recommended location of your LAPYLIGHT® Luxury light therapy lamp is up to 24 at your face. Use your therapy lamp for 20 to 60 minutes to benefit from up to 10,000 lux of bright light! The more your light therapy lamp is close to you, the less time you need to use it and vice versa if you place it further.
Personalize your use
Adjustable and happyhue brightness allow you to personalize your experience with your HappyLight® Luxury - allowing you to maximize your comfort by choosing the settings that suit you best!
The health lighting company

At Verilux®, we are proud to be the creator of HappyLight® and the most reliable brand of light therapy lamps. We are committed to bringing you a complete and UV -free spectrum light - your happiness is our priority
ETL approved in the United States and Canada


Certified by the FCC and ICES; Compliant with the ROHS directive

Tested in accordance with standard IEC 62471 for blue light and UV rays safety

American and non -American patents pending

Dimensions of the lens: 5.9 '' x 9 in

Unit width with its support: 4.5 ''

Energy economics - uses only 29 watts

Light color: white

Light intensity: 10,000 LX (929.37 FC)
All sales are final. No return, exchange or refund. Photos can be indicative only.