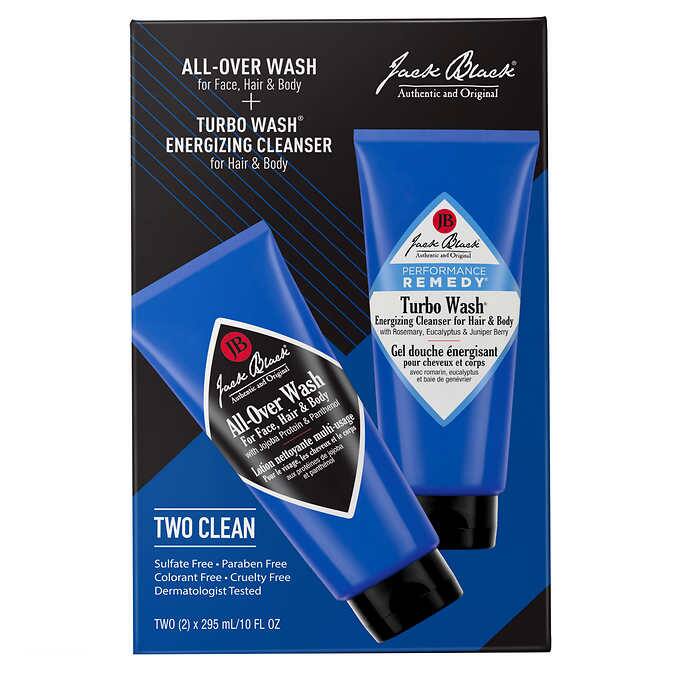 Jack black - energizing shower gel for hair and body
Sale price
$24.69
Regular price
$37.99
Ramassage en magasin disponible
La livraison est disponible pour ce produit
Ce produit est éligible à la livraison gratuite à l'achat de 125$ et plus
En achetant chez nous, vous contribuez à maintenir des emplois stables chez Re-Source Integration, pour des gens ayant des limitations fonctionnelles. Merci pour votre soutien!
Jack black - energizing shower gel for hair and body
Sale price
$24.69
Regular price
$37.99
Description
Purchasing policy
Description
Refresh and energize your skin with cleaning and moisturizing duo. Nothing like to start or end the day that the gentle exfoliation of the Buff face and the aroma of emblematic eulyptus of Turbo.

What is in it
Turbo Wash ™ energizing cleaning for hair and body: This double -use body and hair cleaner, sulfate -free, eliminates dirt and sweat without drying too much, giving the whole body a feeling of revitalization for optimal performance. Rosemary and eucalyptus offer a fresh and refreshing aroma that stimulates the senses, while the soothing properties of juniper bay and arnica help to relax the overworked and tired muscles. A mixture of sulfate -free cleaning agents effectively cleanses the skin and hair without dehydrating it.

Energizing exfoliant facing buff: A cleaner before shaving and a face scrub in a single product that exfoliates gently for easier and more precise shaving. Ecological and biodegradable exfoliating particles help disobey pores, prevent embodied hairs and minimize irritation due to shaving. Eliminate oil, dirt and dead skin cells to leave a clear path to your blade.

Turbo Body Lotion ™ Energizing Gel Moisturizer: This unique gel transformed into a moisturizing lotion for the body contains the turbo aroma, the Jack Black bestseller. This light hydrating and rapid absorption applies gently to nourish and hydrate the skin of the body. Rosemary extract and eucalyptus combine to invigorate the senses, refresh the skin. Barbarism fig oil and aloe provides clean and quickly absorbed hydration. Perfect for use after shower or whenever the skin is dry.

How and when to use it?
Turbo Wash ™ energizing cleaning for hair and body: Use before exercise under a hot shower to relax the muscles, open the airways and help to awaken the senses. Use after exercise to clean up in depth, refresh and soothe tired muscles. To be used at any time to invigorate, clean effectively and restart the body.

Energizing exfoliant facing buff: Use two to four times a week before shaving or as an exfoliant. Apply a quantity of the size of a coin to the wet face, slowly rubbing in circles. The power of the scrub is integrated into the product, so it is not necessary to rub vigorously.

Turbo Body Body Lotion ™ energizing hydrating gel: Generously apply the Turbo Body Lotion ™ to the skin of the body, especially on excessively rough areas such as elbows, knees and dry feet. Use after the shower or whenever the skin seems dry.
All sales are final. No return, exchange or refund. Photos can be indicative only.