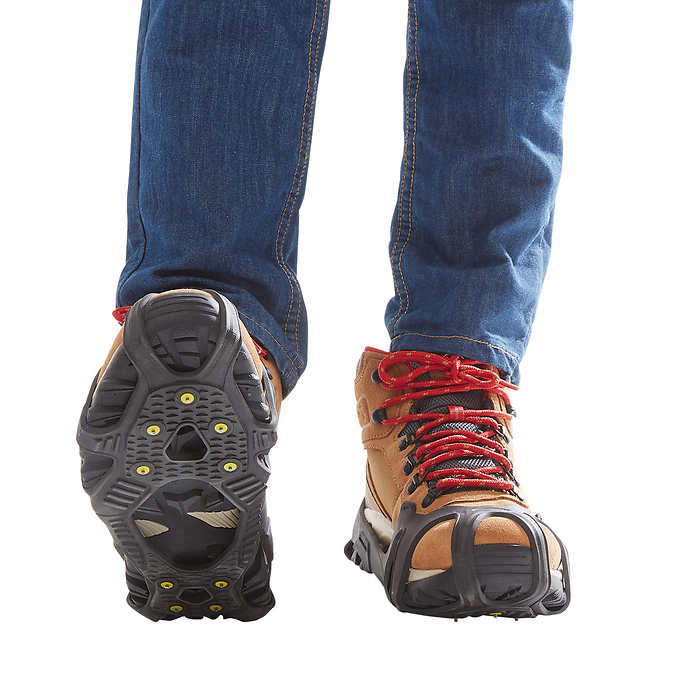 Icetrax - Anitidian soles V3 Package of 2
Sale price
$10.13
Regular price
$12.99
Ramassage en magasin disponible
La livraison est disponible pour ce produit
Ce produit est éligible à la livraison gratuite à l'achat de 125$ et plus
En achetant chez nous, vous contribuez à maintenir des emplois stables chez Re-Source Integration, pour des gens ayant des limitations fonctionnelles. Merci pour votre soutien!
Description
Purchasing policy
Product details
 Invest in your safety this winter, thanks to Icetrax V3 winter non -slip soles. Whether to shoveter snow, walk your dog or shop, these non -slip soles will give you the confidence you need to walk or run on snow and ice. They have the adjustable Stayon tip and nine tungsten carbide crampons to help prevent falls.
Features :
Size: small/medium or large/very large




S/M-Men 5-9, women 6.5-10.5 l/xl-men 9.5-13, women 11+




Icetrax V3 ice cream crampons provide stability and safety when you walk and run on slippery winter surfaces




The non -slip soles have nine tungsten carbide crampons combined with a sole design offering improved grip on ice and snow




Icetrax crampons settle in seconds on most types of shoes




Take them almost everywhere, they are light, portable and, when you do not use them, they can be easily stored in the transport bag included




Facts of a durable rubber compound which remains resistant and elastic in cold weather




A tape reflective in the heel offers security and visibility at night



Pair specifications:
Dimensions (L. × l. × H./p.): 30 cm × 14.5 cm × 4.9 cm (11.81 in 5.71 in × 1.93)
Weight: 0.34 kg (0.75 lb)
All sales are final. No return, exchange or refund. Photos can be indicative only.